Threadbare Russian Olympic team en route to Rio
Comments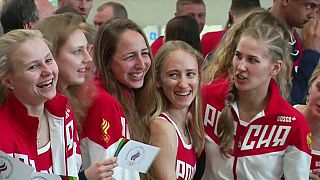 A threadbare Russian Olympic team gathered at Moscow's Sheremetyevo International Airport to board a flight to Rio.
Members of the volleyball, handball, boxing, synchronised swimming and table tennis teams made up a group of 70 athletes.
70 Russian athletes to fly to Rio after goodbye ceremony at Moscow airport https://t.co/SQ6taBAIKIpic.twitter.com/fUCR6fTcRF

— Moscow Russia (@MoscowRRussia) July 27, 2016
Originally 387 were scheduled to take part in Rio, but more than 100 have been banned, a hurt felt by all Russian athletes as volleyball player Nataliya Goncharova explains:"I think it must be very painful because we know how much hard work it involves. Some people spend four years preparing for this, anticipating the Olympics and then they can't go, I feel really sorry for them."
The World Anti-Doping Agency called for Russia to be banned due to widespread reports of state sponsored doping, but the International Olympic Committee left it up to individual sports federations to make the final decision.
A move that provoked a storm of protest.
Russians can win medals in almost all #Olympic events: Zhukov</a><a href="https://t.co/b4d7vNwfEv">https://t.co/b4d7vNwfEv</a><a href="https://twitter.com/hashtag/AlexanderZhukov?src=hash">#AlexanderZhukov</a> <a href="https://twitter.com/hashtag/Sports?src=hash">#Sports</a> <a href="https://t.co/Z6foN2YpNl">pic.twitter.com/Z6foN2YpNl</a></p>&mdash; Vishvatimes (VishvaTimes) July 21, 2016
The Head of the Russian Olympic Committee, Alexander Zhukov gave the athletes a rousing send off:"The Russian Olympic team is a brilliant team. All these people here are the best sportspeople we have, the best in the world. I think the whole country will be supporting them, the support will be twice as strong. Remember our Sochi motto 'One country, one team.'
The Russian athletics team is down to just one with 67 banned and the long jumper Darya Klishina competing as an independent.
Russian Olympic Committee admits only two meet IAAF criteriahttps://t.co/PIDWxsqQ6Npic.twitter.com/nI33xeX2As

— Ukraine Business (@UkraineBusines) July 6, 2016