Looking back at the Olympics 1908-1920
Comments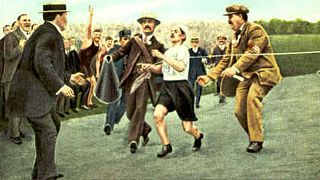 LONDON 1908 A longer Marathon provides the highlight
The 1908 Games had originally been awarded to Rome but it became clear that the Italian capital would not be ready in time, mainly because funds had to be transferred from the Olympics to reconstructing Naples after the eruption of Mount Vesuvius in 1906.
London stepped in as a replacement and despite such short notice, the Games was perhaps the best organised to that point. For the first time the Olympics had a purpose built stadium and swimming pool; previous Olympic swimming events had been held in open water. The highlight of the Games was the marathon. Organisers added 195 metres to the 42 kilometre race so that the finish line would be in front of the Royal Box of London's White City Stadium.
42.195 metres later became the official distance for marathon races. The race itself was shrouded by controversy. Italian runner Dorando Pietri was first to enter the stadium but was clearly exhausted and confused as to which way to run. He collapsed several times and race officials had to help him cross the line, for which he was disqualified despite finishing first (see video in Spanish).
Find more on www.olympic.org
STOCKHOLM 1912 More countries, more events, more innovation
If London had been well organised in 1908, the Stockholm Games of 1912 were even more so, with the introduction of automatic timing devices and photo finishes for track events and a public address system in the Olympic stadium. For the first time ever, all five continents were represented and Japan took part for the first time. Art competitions such as sculpture, literature and music were added to the agenda. In the marathon, Japanese runner Shizo Kanakuri went missing during the race after collapsing and being cared for by local farmers. He returned to Japan without notifying officials and was presumed missing by the organisers. In 1966 he was invited back to Stockholm to complete his marathon, which he duly did in a time of 54 years, 8 months, 6 days, 8 hours, 32 minutes and 20.379 seconds.
Watch the video on Youtube
ANTWERP 1920 The Olympics returns after the War
The 1916 Games in Berlin were cancelled due to World War I, and the 1920 Olympics, originally scheduled for Budapest, were awarded to Antwerp as a tribute to the suffering endured by the city in the war. It was here that the Olympic flag of five rings and the Olympic oath were introduced. Swedish shooter Oscar Swahn became, and still remains, the oldest Olympic medallist at the age of 72. Another notable athlete was Italian fencer Nedo Nadi (see video in Italian), who won five of the six available fencing golds.