German police arrest man "threatening to blow people up" in latest security alert
Comments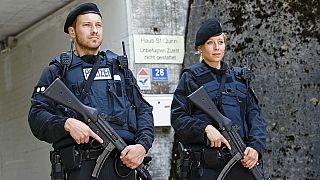 German police have arrested a 19-year-old Algerian refugee who fled a psychiatric facility threating to "blow people up".
Earlier during a manhunt, a shopping centre in the town had been evacuated. Police have since dismissed claims the individual had links to Islamist groups.
#Germany police on scene in #Bremen searching for missing Algerian https://t.co/y3oNzyv3Rzpic.twitter.com/wXj11xdXID

— Roeland Roovers (@r0eland) July 27, 2016
The country is in a heightened state of tension since a recent spate of violent attacks – the worst being last week when a gunman in Munich shot nine people dead before killing himself.
The Bremen manhunt was in Germany's north, far away from the other incidents, mostly in Bavaria, but reflects a nationwide sense of alert.
German media claims the concerns of ordinary Germans are justified as the Munich gunman was using social media to gather support – although the incident is not thought to have been jihadist inspired. .
Meanwhile some 1,000 Muslims have paid their respects to the victims of the Munich shooting. Most of those who died were aged between 13 and 20 and were of the Muslim faith. And in Greece a 17-year-old boy who also died in the shooting has been buried in his family's grave.
Later today German Chancellor Angela Merkel will make a statement on the challenges facing her country.
July attacks
* A teenage asylum seeker from Afghanistan is shot dead after injuring five people in a knife and axe attack on a train near Weurzburg.
ISIL
claims the attack.
A German teenager, thought to be fixated on school shootings, guns down nine people in a Munich shopping centre.
A Syrian asylum seeker is arrested in the town of Reutlingen, after allegedly killing a Polish woman with a machete and injuring two other people after a row.
A failed Syrian asylum seeker blows himself up outside a music festival in Ansbach, injuring 15 other people.