'World is at war', Pope on recent attacks
Comments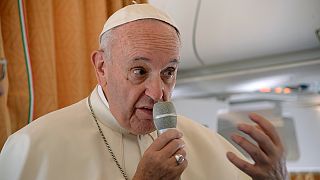 Pope Francis has said that the recent string of attacks, including the killing of a Roman Catholic priest in Normandy was proof the 'world is at war'.
Speaking to reporters he clarified it was 'not a war of religions' but rather one of domination of peoples and economic interests.
"Not a war of religion. There is a war of interests. There is a war for money. There is a war for natural resources. There is a war for domination of peoples. This is the war," he said.
"The word that is being repeated often is insecurity, but the real word is war," he said in brief comments to reporters while flying to Poland for a five-day visit.
Commenting on the attack on a Normandy church in which priest Jacques Hamel lost his life, he called him a 'saintly priest' but added he was just one of many innocent victims.