Can Clinton boost her public profile to win the White House?
Comments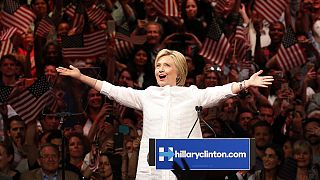 She may well have officially sealed the Democratic presidential nomination, but can Hillary Clinton convince more Americans to warm to her – and to trust her?
More than half of voters take an unfavourable view, according to polling.
This week's National Convention in Philadelphia aims to inject more life into her likability.
"In the spring of 1971 I met a girl. We've been walking and talking and laughing together ever since," husband and former president Bill Clinton told the gathering.
"For this time, Hillary is uniquely qualified to seize the opportunities and reduce the risk we face and she is still the best darn change maker I have ever known."
So proud of you, Hillary. #DemsInPhilly

— Bill Clinton (@billclinton) 26 July 2016
First Lady Michelle Obama is also throwing her support behind Clinton, recognising her political struggle for equality.
"I wake up every morning in a house that was built by slaves. And I watch my daughters, two beautiful, intelligent black young women, playing with their dogs on the White House lawn," she said during a Convention address.
"And because of Hillary Clinton, my daughters, and all our sons and daughters, now take for granted that a woman can be president of the United States."
Clinton can struggle to show compassion in front of crowds – something her supporters, including the mother of a shooting victim, says she shares in private.
"Hillary Clinton isn't afraid to say black lives matter. She isn't afraid to sit at a table with grieving mothers and bear the full force of our anguish. She doesn't build walls around her heart," Lucia McBath, mother of Jordan Davis, told the audience.
"Not only did she listen to our problems, she invited us to become part of the solution."
Celebrities have also been lining up to big up Clinton at the Convention. The first woman to head the ticket of a major party going down well with big names like Meryl Streep.
"And you're going to make history again in November because Hillary Clinton will be our first woman president," declared Streep.
Meryl Streep's #DemsinPhilly flag dress is already sold out, America. https://t.co/UGRbpzqv5Qpic.twitter.com/lXEEakzDMk

— Mashable (@mashable) 27 July 2016