Turkey: Presidential guard facing axe as Erdogan crackdown intensifies
Comments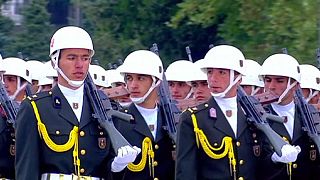 Turkey's presidential guard is to be disbanded as Recep Tayyip Erdogan further tightens his grip on the country in the wake of its failed coup.
Nearly 300 members of the guard were arrested after the coup attempt over a week ago. The government now believes there is 'no need' for the regiment.
President Erdogan says more than 13,000 people have been taken in custody since the failed uprising. Under emergency rule, suspects are liable to be held without charge for up to 30 days.
Turkish decree increases detention period to 1 month, closes schools, hospitals https://t.co/7ukdD1MsBBpic.twitter.com/6FglsAik5r

— Hürriyet Daily News (@HDNER) 23 juillet 2016
Turkish authorities have detained a nephew of Fethullah Gulan, the US-based cleric accused by Ankara of orchestrating the coup attempt.
The nephew, Muhammed Sait Gulen, was detained in the northeastern city of Erzurum and will be brought to the capital Ankara for questioning, Anadolu state news agency reported. Among possible charges that could be brought against him is membership of a terrorist organisation, the agency said.
It is the first time a relative of Gulen has been reported detained since the failed coup. Gulen denies any involvement in the coup attempt in which at least 246 people were killed.
A key aide to the cleric was also said to be in custody.
Erdogan has ordered the closure of thousands of private schools, charities and other institutions in a crackdown that has raised serious concerns from human rights groups and in the West. Thousands of employees have been suspended or dismissed.
#Turkey: Some 60,000 public sector employees have been removed or suspended from their posts https://t.co/NRZtZQdzympic.twitter.com/dQ3nNUMRdZ

— AmnestyInternational (@amnesty) 23 juillet 2016
Erdogan rejects accusations that freedoms and rights are being infringed in Turkey and has urged supporters to continue rallies on the streets, saying such demonstrations are needed to defend democracy.