Afghanistan mourns dozens killed in 'ISIL' suicide attack
Comments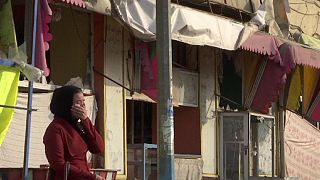 A national day of mourning was being observed in Afghanistan on Sunday after a suicide attack in Kabul which left at least 80 people dead and more than 230 others injured.
I heard a bang and then everyone was escaping and yelling

Eyewitness
So-called Islamic State says it was behind the carnage, targeting the mainly Shi'ite Hazara minority.
It is the first time the Sunni Muslim terror group has claimed responsibility for an attack in the capital.
Up to three suicide bombers were involved although reports say only one managed to detonate his explosive belt.
Saturday's attack hit Hazaras demonstrating over fears their homes will not be included in the route of a planned power line project. Graphic television footage from the site of the attack showed many dead bodies lying on the bloodied road nearby.
"We were holding a peaceful demonstration when I heard a bang and then everyone was escaping and yelling," said Sabira Jan, a protester who witnessed the attack and saw bloodied bodies strewn across the ground. "There was no one to help."
Afghanistan marks day of mourning after Isis claims Kabul bombing https://t.co/rJlCBcgkbN

— The Independent (@Independent) 24 juillet 2016
Afghan President Ashraf Ghani vowed revenge for the bombing which was even condemned by the Taliban.
The Persian-speaking Hazara, estimated to make up about 9 percent of the population, are Afghanistan's third-largest minority but they have long suffered discrimination, and thousands were killed during the period of Taliban rule.
The top UN official in Afghanistan, Tadamichi Yamamoto, condemned the attack as a war crime.
"This attack is particularly heinous because it targeted civilians as they exercised their rights to freedom of assembly and freedom of expression.
"An attack deliberately targeting a large, concentrated group of civilians amounts to a war crime," he said in a statement.
The United States and Russia also condemned the bombing and renewed pledges of security assistance to Kabul.