What we know so far about the Munich shooting
Comments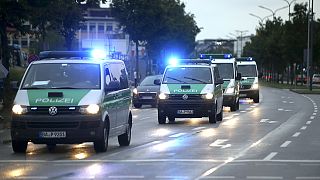 A gunman killed nine people in a Munich shopping mall before turning his weapon on himself.
Sixteen others are believed to have been injured.
Several children are among the casualties.
What happened
At around 18h00 local time the shooting began at a MacDonalds on Hanauer Street near Munich's Olympic stadium. The gunman then moved to the nearby Olympia shopping centre and continued shooting.
The attacks sparked a huge manhunt amid reports that other suspects were on the loose. Roads, railways and the city's metro stations were locked down.
Residents offered sanctuary in their homes to people trapped in the area.
However, in the early hours of the morning police confirmed that a body found around 1 km from the shopping centre was that of the only gunman. He had killed himself.
The gunman
The attacker, armed with a pistol, was an 18-year old with dual German Iranian nationality, police say.
They say they have no clues as to his motive and have yet decided whether it was an act of terrorism.
Munich Police Chief Hubertus Andrae said he did not see immediate similarities with another attack on Monday when a 17-year-old refugee had attacked train passengers with an axe.
The earlier attacker had stated he was acting under the inspiration of ISIL.