Trump promises to 'restore law and order' in America
Comments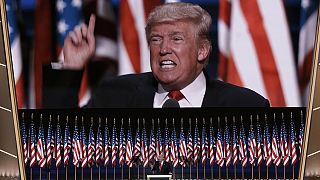 Donald Trump has pledged to bring "safety, prosperity and peace" to America, if he is elected president.
We are going to build a great border wall

Republican presidential nominee
He has been speaking in Cleveland in Ohio, as he accepted the Republican presidential nomination.
Trump vowed to get tough on crime and illegal immigrants in a 75 minute address, pleasing thousands of cheering supporters.
"We are going to build a great border wall to stop illegal immigration, to stop the gangs and the violence, and to stop the drugs from pouring into our communities," he said.
Trump accused Democratic rival Hillary Clinton of a legacy of "death, destruction, terrorism and weakness."
"America is far less safe and the world is far less stable than when Obama made the decision to put Hillary Clinton in charge of America's foreign policy. Let's defeat her in December," he told the crowd.
He continued: "Let's review the record. In 2009, pre-Hillary ISIS was not even on the map."
With a dark tone, Trump portrayed the U.S. as a diminished nation and offered himself as an all-powerful savior https://t.co/UdmZApB7Cc

— The New York Times (@nytimes) 22 July 2016
Trump said he would add millions of new jobs and trillions in new wealth.
It is time, he went on, to show America is back, bigger and better than ever before.
The acceptance speech by Trump, 70, closed out a four-day convention that underscored his struggle to heal cracks in the Republican Party over his anti-illegal-immigrant rhetoric and concerns about his temperament.
The event was boycotted by many big-name establishment Republicans, such as 2012 nominee Mitt Romney and members of the Bush family that have the party its last two presidents.
Social media reaction
The #TrumpSpeech tonight was UNBELIEVABLE & almost otherworldly. We witnessed one of the greatest speeches of all time, folks. #DonaldTrump

—

ALWAYS

TRUMP

! (@Always_Trump) 22 July 2016
Trump's speech leaves you with many mixed feelings; you don't know if you should get goose bumps or an ulcer

— Dr Bassem Youssef (@DrBassemYoussef) 22 July 2016
I'm going to lose a few followers for this but WOWWW…what a wonderful speech! I am 100% unequivocally now a Trump supporter!
#TrumpSpeech

— Rita-Anne (@IamRitaAnne) 22 July 2016
Trump seems kinda weird

— Alan Resnick (@alanresnicks) 22 July 2016