Tour de France: Bardet hands France first victory this edition as Froome survives crash to retain race lead
Comments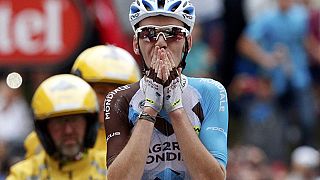 Romain Bardet handed France it's first win at this year's Tour de France on Friday by winning stage 19 while Team Sky's Chris Froome survived a crash to remain on track for a third title at cycling's most prestigious race.
The 146km stage took place from Albertville to Mont Blanc and was littered with crashes.
Tom Dumoulin's race came to an end 90 kilometres in. He suffered a broken forearm which could rule him out of the Olympics too.
As the rain started to smash down on the riders making the roads slippery Pierre Rolland hit the deck as he attacked the breakaway group, but with no serious injury was back in the saddle soon enough.
Froome and Vincenzo Niabli also wiped out on a descent before the final climb both losing their front wheels in a synchronized slip and tumble.
Nursing a few cuts and bruises, reigning champion Froome was pulled out of trouble and back into the race by his superb teammates.
Froome finished the race riding teammate Geraint Thomas' bike.
Bardet, meanwhile, escaped the chasing group on the lower slopes of Mont Blanc with 10km to go and had only Rui Costa to catch.
He soon caught his man and went on to claim the solo win, which lifted him into second place in the general standings four minutes and 11 seconds behind Froome with two stages left.