UK jobless rate falls to 11-year low
Comments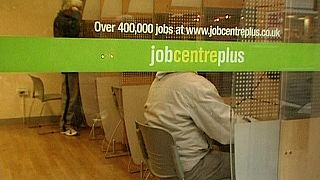 Britain's jobless rate has fallen to its lowest level since October 2005.
The unemployment rate was at 4.9 percent of the workforce in the three months to May – down from 5.0 percent in April, the Office for National Statistics said.
The statistics are from before last month's vote to leave the European Union, which led to warnings of slower growth.
Commenting on today's labour market figures, ONS statistician Nick Palmer said: pic.twitter.com/Nil6RFdx1b

—

ONS

(@ONS) July 20, 2016
Policymakers at Britain's central bank will take into account how Britain's labour market reacts to the Brexit decision.
No sharp slowdown yet
Shortly after the jobs numbers were released on Wednesday, the Bank of England said that so far there are no clear signs of a sharp economic slowdown in the UK.
The BoE's regional agents, who speak regularly with companies, said business uncertainty had risen markedly but most firms did not plan to cut hiring or investment.
We've published this month's report on business conditions by our Agents. https://t.co/30yb3EdcjWpic.twitter.com/eb4sa2vbgi

— Bank of England (@bankofengland) July 20, 2016
The pound rose against the US dollar as the BoE report struck a less downbeat tone than other surveys which have shown falls in business and consumer confidence.
Wednesday's report leaves open the risk that the full impact of the Brexit vote is yet to be felt.
Earlier this month the BoE said it expected the UK economy to slow markedly as a result of the decision to leave the EU.
On Tuesday the International Monetary Fund cut its growth forecast for Britain next year to 1.3 percent from 2.2 percent.
Many firms told the BoE they were reviewing their strategy in light of the unexpected outcome of the vote and about a third expected to cut hiring or investment over the next 12 months.
The BoE report contrasted with a survey of British households, published by financial data company Markit on Wednesday, which showed households at their gloomiest about the economic outlook in two-and-a-half years.
Figures on Monday from accountants Deloitte showed four out of five chief financial officers of large British companies planned to reduce investment in the year ahead, and were at their most pessimistic since the 2008 financial crisis.
"Marked shift to defensive balance sheet strategies" follows #EUreferendum – IanStewartEcon</a> on today's <a href="https://twitter.com/hashtag/CFOSurvey?src=hash">#CFOSurvey</a> <a href="https://t.co/JfeUxonKxx">https://t.co/JfeUxonKxx</a></p>&mdash; Deloitte UK (DeloitteUK) July 18, 2016