Ankara calls for US to extradite 'coup mastermind'
Comments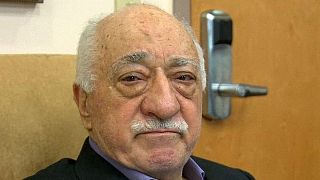 Turkey prepares extradition request for Gulen
US says any extradition will be conducted according to treaty
Gulen denies involvement in coup
Turkey is sending an extradition request to the US for the cleric Fethullah Gulen.
He is the former ally turned critic of President Recep Tayyip Erdogan who Ankara accuses of being the mastermind behind Friday's coup.
In a statement, Gulen has urged the US government, "to reject any effort to abuse the extradition process to carry out political vendettas."
Mark Toner of the US State Department said the process would be conducted according to the treaty between the two nations:
"This is not an overnight process that's just not how these processes work, it is gonna take some time but we are going to standby the extradition treaty working in concordance with the extradition treaty."
Double standards
Prime Minister Binali Yildirim has accused Washington, which has said it will consider Gulen's extradition only if clear evidence is provided, of double standards in its fight against terrorism.
Yildirim said the justice ministry had sent a dossier to US authorities on Gulen, whose religious movement blends conservative Islamic values with a pro-Western outlook and who has a network of supporters within Turkey.
US State Department, Mark Toner has also denied Turkish accusations of US involvement in the attempted coup.
"It`s absurd to think that United States was somehow complicit or anyway connected to the events of Friday. (…) This is a NATO ally is a partner is a democratically elected government it is a strong democracy we stand with and stood with Turkey during that crisis."
Gulen who lives in self imposed exile in Pennsylvania, admits having a large following in Turkey, but which Erdogan says amounts to a parallel state-cum-terrorist organisation within the country. Gulen has condemned the abortive coup and has denied any role in it.
Fethullah Gulen, speaking to the FT: Coup could have been staged https://t.co/uJ84mgRXU2#Turkeycouppic.twitter.com/297dJI5BqP

— Financial Times (@FT) July 16, 2016