British lawmakers back renewal of Trident nuclear deterrent
Comments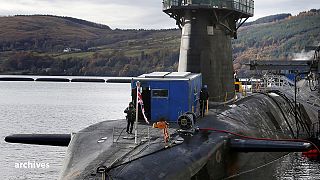 British MPs voted on Monday to renew the country's nuclear weapons system, by a majority of 472 votes to 117.
The nuclear-armed Trident submarines are based in Scotland, whose pro-independence MPs from the Scottish National Party opposed the renewal.
During the debate in the House of Commons, one member challenged Britain's new prime minister.
"Is she personally prepared to authorise a nuclear strike that could kill 100 thousand innocent men women and children?" SNP George Kerevan asked Theresa May.
The question brought an unequivocal response.
"Yes," Theresa May replied, adding that "I have to say to the honourable gentlemen that the whole point of a deterrent is that our enemies need to know that we would be prepared to use it."
The Labour leader Jeremy Corbyn said he would not take a decision that kills millions of people.
But his leadership is under challenge and many MPs in his party approved the Trident upgrade.
The decision to replace the weapons system was agreed in principle by parliament in 2007. Monday's vote gave the seal of approval.
The Ministry of Defence says replacing the four submarines would cost 37 billion euros but some estimates put the overall cost many times higher.
The vote brought a protest from anti-nuclear demonstrators in Glasgow.
Theresa May said the move would protect Britain from growing threats from Russia and North Korea, and also protect thousands of jobs in Scotland and elsewhere.