Turkish soldiers seek asylum in Greece
Comments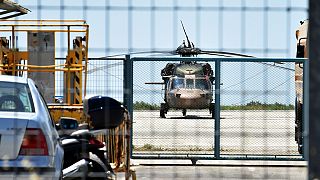 Eight Turkish officers who fled after the failed coup attempt in Turkey have claimed asylum in Greece.
Greece has responded to Turkey's demand that they immediately be deported by saying that their asylum claim will first have to be processed through the legal system.
The officers, who escaped in a military Black Hawk helicopter which put out a distress signal before landing in Alexandroupoli, could face charges of entering Greece illegally.
The helicopter has already been returned to Turkey.