Foreign evacuees describe violence in South Sudan capital Juba
Comments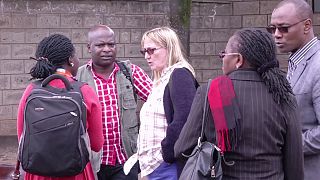 Evacuees from South Sudan have been arriving in the Kenyan capital Nairobi following days of violence and tension in Juba.
Renewed fighting between opposing army forces has led to hundreds of deaths and raised fears of a return to civil war in the East African country.
Some Kenyans described how the violence took hold late last week.
"When the shooting started, everybody took cover because you cannot move. If you move you will find yourself in the frontline. So if you were in the house, you remain in the house and you make sure you are in a place where there are walls because the bullets were hitting on the houses," said one evacuee, Issac Meya.
Until a ceasefire was struck on Monday forces loyal to South Sudan's President Salva Kiir and his longtime rival, Vice-President Riek Machar, fought street battles with each other for five days. The cause isn't known for sure.
Machar's spokesman said on Wednesday that his troops had been withdrawn to outside the capital and there were no plans for war.
Differences between the pair led to a two-year civil war from late 2013.
The UN's peacekeeping chief Herve Ladsous has said the death toll is likely higher than the official figure of 272, including 33 civilians. "I would believe that this is only the tip of the iceberg given alarming reports indicating over the last few days many civilians were barred from reaching safer grounds, including the compounds of the United Nations," he said.
The US and Uganda have sent troops to help evacuate their own nationals.