Fair play goes far for young Portugal fan
Comments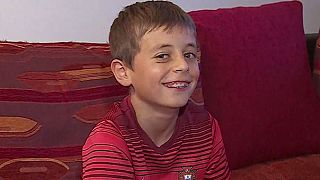 Matisse – a young boy, not the painter – caused an internet sensation when he was captured on camera giving a hug to a tearful French football after the Euro 2016 final at the Stade de France.
Seeing grown men cry in the streets surrounding the Stade de France is a familiar sight but such warm consolation from a young boy is all too rare a spectacle.
In this video, the 10-year-old explains how he felt after the historic match which ended Portugal's pursuit of a major international title.
Matisse, whose father is French and mother Portuguese, says he chose to support his mother's homeland because Portugal were they underdogs.
"France have already won this competition and the World Cup," said Matisse but, as it's also the country where he was born, it was easy to commiserate.