Srebrenica buries 127 newly-found victims on 21st anniversary of massacre
Comments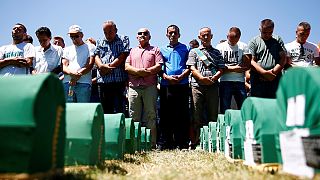 Thousands of people have gathered in Srebrenica on the 21st anniversary of Europe's worst massacre since World War II.
They also attended the funeral of 127 newly-found victims, who were buried at a cemetery next to more than 6,000 other people discovered previously in mass graves.
For Muslim Bosniaks, Srebrenica has become a symbol of collective suffering and these July burials an annual ritual.
8,000 men and boys were killed by nationalist Bosnian Serb forces led by General Ratko Mladic, who executed them after overunning Srebrenica near the end of Bosnia's war and dumped their bodies in pits.
Serbs were notably absent from the ceremony: this year victims' families said those who denied that this was genocide were not welcome.
Many Serbs continue to deny the massacre of 8,000 men and boys was genocide as judged by the UN war crimes tribunal for the former Yugoslavia.
"I lost my husband here, and I escaped with my two children across the mountains in 1995 towards Tuzla. After all these years, his body (her husband's) was found. In fact, just a few bones of his body. And that is what I am burying today," said 52-year-old Fatima Duric, the widow of a Srebrenica victim.
"I want sometimes to disappear from the face of the earth when I hear someone saying that we are lying about the massacre. How can someone say that we are lying about this? Shame on them. I no longer have my father, my mother and my husband with me. I was only 20 when I was left with three little daughters," said Ramiza Omerovic, now 41.
The divisions continue to hinder reconciliation and stifle Bosnia's progress towards integration with Western Europe.
The country is split into autonomous Serb and Bosniak-Croat entities.