Continued cooling for China's economy forecast
Comments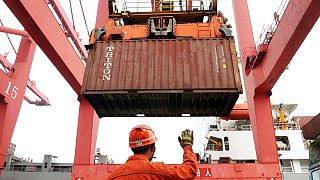 China's economy seems set to continue cooling.
The latest survey of economic analysts has them predicting growth of 6.6 percent in the period from April to June, down from 6.7 percent in the first three months of the year.
The expected April-June growth rate would be the weakest since the first quarter of 2009, when it fell to 6.2 percent during the global financial crisis.
GDP data will be announced on July 15, along with monthly indicators on investment, industrial output and retail sales.
China's economy grew 6.9 percent in 2015, its slowest rate in more than two decades.
The economists expect a further loss of momentum in the second half of 2016.
They believe that will prompt the Beijing government and China's central bank to roll out more stimulus for the world's second-largest economy amid worries about the fallout from Britain's vote to leave the European Union.
This all comes against a backdrop of slowing investment by private firms, stagnation in manufacturing and weak growth in the finance industry, with many investors continuing to shun China's stock markets after last year's crash.