Portugal crowned European Champions after Ronaldo was forced off injured in the first half
Comments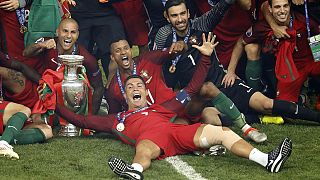 The European Championships of surprises ended with a surprise.
Portugal were crowned Champions, after beating France, the home team. While the Portuguese celebrate their first European title, the Blues cry for the first final lost on home turf.
The celebrations in Paris were probably heard on Portugal's Algarve such was the joy and also the relief for this was a final which never lived up to its billing.
It drifted into extra time after France had hit the upright close to full time. The breakthrough eventually came in the 109th minute and out of nothing.
Eder got the ball a long way out, and struck a low shot from 25 yards into the corner of the net. The French keeper had not chance.
It was a great strike to win Portugal their first Euro Championship and a victory that will go down in history as it was achieved without their star man.
Christiano Ronaldo had to be taken off after sustaining a knee injury early in the first half and played no further part in the match.
Les Blues were favourites but failed to sparkle as they had done in the semi-final. Paris and the French it seemed fell silent.
As in any match worthy of its name, there's those who surprised and those who, on the contrary, disappointed. Here's our Up & Down of the Paris' final.
Portugal's shot stopper Rui Patricio was a tower of strength between the posts. He answered all questions asked by the French strikers and never looked wobbly for a moment.
The same sadly can't be said for his international team-mate Ronaldo who was forced off with a knee injury after 24 mins. The Real Madrid striker had to watch from the sidelines but he couldn't be silenced as he shouted his team on to success.
At the end of Euro 2016, we take stock of who was the best player of the tournament, in our opinion. I'll give you a clue: they call him ''le petit diable'', the little devil.
Grease lightning – that was one headline in a British newspaper to trumpet Antoine Griezman's double in France's semi-final victory over Germany.
If anyone player has ignited these Championships then arguably it is the 25-year-old striker who has shown all the instincts of a great goal scorer when he gets a sniff of a chance.
He plays his football in Spain at Athletico after signing first for Real Sociedad. He had hoped to play his football in his native France but was turned down by several clubs who believed he was too small to make the grade – how do they feel now?
He is his country's new sporting hero and not without a touch of irony his first club as a youngster growing up in Macon was Sporting Macon – the town's Portuguese community club.
In Portugal, at this time of the year, beaches are really crowded. Between sun and sea, Portuguese fans found a way to encourage their national team, on the eve of the final by spelling out the word Portugal while on the beach. The message obviously got through to Paris!