One of Spain's top bullfighters is gored to death live on TV
Comments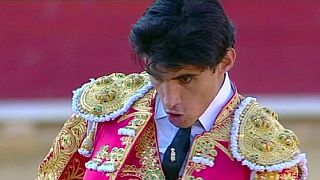 One of Spain's top matadors has been killed after being gored to death by a bull.
Victor Barrio was pierced in the chest live on TV and in front of hundreds of spectators, including his wife, at a tournament in the eastern region of Aragon.
Despite being rushed to hospital doctors were unable to save his life.
Spain's Prime Minister Mariano Rajoy took to Twitter to express his condolences, though others on social media were less sympathetic and called for an end to bullfighting.
Mis condolencias a la familia y los compañeros de Víctor Barrio, torero fallecido está tarde en Teruel. Descanse en paz. MR

— Mariano Rajoy Brey (@marianorajoy) July 9, 2016
The bullfighter's death, the first of its kind in nearly 30 years, came as a 28-year-old man also died during a bull-run near Valencia.
Many towns in Spain are currently holding events involving bulls, including the world-famous festival of Pamplona, which saw two men gored on Saturday.
"I fell in the middle of the tunnel right before the bulls all came in so I have a couple of footprints on my back but other than that I am fine," said one runner.
This year, nearly 30 people have been injured, some seriously, during the Pamplona festival, which has so far only held half of its eight annual bull-runs.
Risking life and limb, participants run through the streets of Pamplona's old town.
While no one has died at the Pamplona event since 2009, around 10 people are killed annually during Spain's famous bull runs.