Australian PM declares narrow election victory
Comments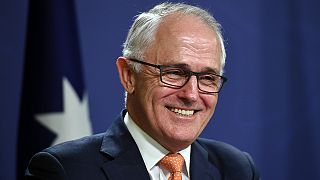 Australia's prime minister has declared a narrow victory on the eighth day of vote counting in marathon federal elections.
Malcolm Turnbull may just gain a majority – or else he may be forced to rely on independents to form a government. His coalition had 74 MPs at 0900 GMT – just two short of a majority – whilst the opposition All Labour Party had 66. Five results have not yet come in.
Although he is expected to form a majority government, Turnbull's gamble in calling the election backfired badly, with a swing to the centre-left Labor opposition and a rise in the popularity of minor parties and independents.
Turnbull's narrow margin of victory over Labor means he may be forced to rely on independents, who won five seats, to ensure the passage of legislation. That raises questions about how effective his government will be in the long term.
Labor has already conceded defeat and its leader Bill Shorten has offered to work with Turnbull by finding common ground in parliament.
"They've made it clear, with the representatives they have selected, that they expect us to work together," he told a press conference.
Labor vowed not to unduly disrupt the new parliament, although it and several independents oppose much of the coalition's jobs and growth agenda, from how to return to budget surplus to a proposal for a A$50-billion ($38 billion) corporate tax break.
Meanwhile both Turnbull and Shorten have backed calls to introduce electronic voting so that results take hours rather than days to come in.
Standard and Poor's recently cut Australia's credit rating outlook to negative from stable last week, threatening a downgrade of its coveted triple A status, over a potential budget impasse which the new government must tackle.