Gunbattles erupt in South Sudan's capital
Comments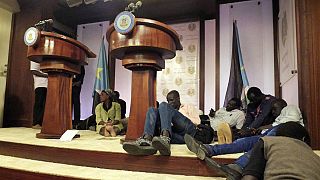 Gunbattles erupted in South Sudan on its fifth independence anniversary and as peace talks were underway in the capital Juba.
Journalists ducked for cover as President Salva Kiir and former rebel leader, and now vice president, Riek Machar held a press conference at State House.
A doctor reported scores of bodies being brought to a city hospital and the US embassy said two of its vehicles were shot at by government security forces, although no one was harmed.
It's not year clear who was involved in the fighting and neither Salvar Kiir nor Rieck Machar claimed to know what the violence was about.
The country celebrated its independence just five years ago but has quickly unravelled.
Tens of thousands of people have died since December 2013 when civil war broke out between factions led by Kiir and Machar and peace talks are still going on.
Experts have warned that the five-year-old nation risks sliding back into conflict unless the two sides move more swiftly to implement the peace pact, including ensuring the swift re-integration or demobilisation of rival combatants.
South Sudan split from Sudan after fighting for decades for its independence.