Messi to appeal against prison term for tax fraud
Comments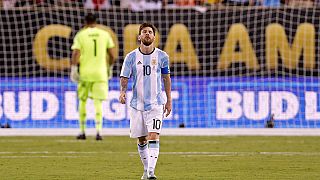 World football superstar Lionel Messi and his father are to appeal against a 21-month prison term and 2 million euro fine in a tax case.
The move comes after the pair were found guilty of three counts of tax fraud.
However, neither man is expected to serve time in jail.
Under the Spanish legal system, prison terms of under two years can be served under probation.
Messi, five times World Player of the Year and one of the world's highest-earning athletes with an estimated income of $350 million (315 million euros) in the past 10 years, plays for Barcelona football club where he is the leading goal scorer of all time.
The court in Barcelona said in a ruling that Messi and his father defrauded the Spanish tax office of almost 4.2 million euros between 2007 and 2009 by using a web of shell companies to evade taxes on income from the player's image rights.
Messi admitted during the trial in early June to signing contracts protecting his image rights but said he had no knowledge he was committing any wrongdoing or defrauding the Spanish state.
He said his father had control over his financial affairs, but the court said on Wednesday that this was not enough to avoid charges and Messi's "ignorance" did not remove responsibility.
Jorge Horacio Messi said during the trial that he was acting on advice from advisers who told him the practice was legal.