Former PM Tony Blair defends his decision to invade Iraq but apologises for mistakes
Comments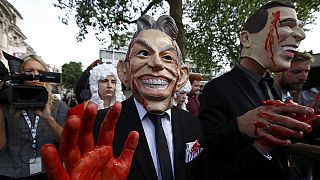 Chilcot Report criticises "unreliable intelligence"
Claims British troops were sent in ill-prepared
No plans for aftermath
Blair opologises for mistakes – but acted in "good faith"
Sir John Chilcot's scathing report into Britain's role in the 2003 Iraq war has produced an apology from former Prime Minister Tony Blair but anger from activists and some of the families of soldiers who died in the conflict.
Chilcot concluded that Blair had over stated the threat posed by Saddam Hussein, sent in ill-prepared troops into battle and relied on unreliable intelligence.
For his part the former British leader said while he apologised for his mistakes he had acted in good faith.
"I only ask with humility that the British people accept that I took this decision because I believed it was the right thing to do based on the information that I had and the threats that I perceived."
"The decision to go to war in Iraq was the hardest, most
momentous & agonising decision I made as PM" Full statement https://t.co/uOvTXYnQzE

— Tony Blair Office (@tonyblairoffice) July 6, 2016
Statement on the Chilcot Report: https://t.co/npgDjQurOy

— Tony Blair Office (@tonyblairoffice) July 6, 2016
Despite his lengthy passionate defence and assurances that he had not lied nor misled the county his critics still want Blair to face criminal action over his decision to take military action.
"Tony Blair should be in The Hague on war crimes, definitely after this damning report," said Valerie O'Neill whose son died in Iraq.
Activist Lindsey German from the Stop the War Coalition said Blair was finished politically:
"We have to campaign for him to have some political sanctions. He should not be a respected figure wandering around the television studios in the way that he has done. He is absolutely finished politically."
A spokesman for some of the families of the 179 British service personnel and civilians killed in Iraq between 2003 and 2009 said their loved ones had died "unnecessarily and without just cause and purpose".
Stop The War Coalition begin a 'naming of the dead' ceremony outside #ChilcotReport inquiry. pic.twitter.com/nmo4tzLrQd

— Ryan Hooper (@RyanJHooper) July 6, 2016