Beijing begins military exercise in South China Sea
Comments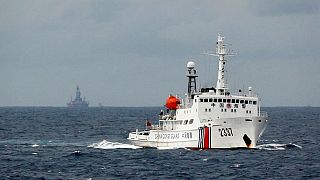 Beijing begins military exercise in South China Sea
Downplays fears of conflict in the area
Ruling due July 12 on competing sovereignty claims by Philippines and China
The Chinese government is seeking to downplay fears of conflict in the South China Sea.
Tension is mounting ahead of a hotly-anticipated international ruling due on competing claims by China and the Philippines in the region.
An influential state-run newspaper has urged Beijing to prepare for military confrontation in the area.
Joint editorials were published in the Chinese and English editions of the Global Times.
The newspaper says the dispute has been complicated by US intervention. It now faces further escalation due to the threat posed by the tribunal to China's sovereignty, it added.
Military manoeuvres
However, China has begun military manoeuvres in the South China Sea.
The drill will last from Tuesday July 5th until July 11.
Drills near Xisha Islands in #SouthChinaSea from July 5-11 are routine military exercises: ministry pic.twitter.com/PAnWlmyH4T

— Global Times (@globaltimesnews) July 5, 2016
The exercises will take place in a 100,000 square kilometre zone around the disputed Xisha Islands.
The official China Daily quotes the Defence Ministry as saying the drills are routine.
The operation will conclude a day before the Hague-based tribunal gives its decision on a territorial dispute in the area, brought by the Philippines.
The ruling
The international court is hearing the competing claims of China and the Philippines in the South China Sea.
BREAKING: Permanent Court of Arbitration to rule on Philippines' case v. China on July 12. pic.twitter.com/FxmPMpddjq |T2TupasINQ</a></p>&mdash; Inquirerdotnet (inquirerdotnet) June 29, 2016
More than three years after Manila initially brought the case, the court will rule on whether it has the right to exploit waters claimed by both countries.
The potentially-destabilising verdict is due on July 12.
The concern
US officials are worried that the ruling by the Permanent Court of Arbitration in the Hague could prompt Beijing to declare an air defence identification zone (ADIZ).
It did this over the East China Sea in 2013.
There are concerns China could also step up the pace of reclamation and construction on its holdings in the disputed region.
What China says
The China Daily says what response China takes will "fully depend" on the Philippines.
It quotes unidentified sources as saying:
"There will be no incident at all if all related parties put aside the arbitration results"
"China has never taken a lead in..stirring up regional tension."

What Manila says
Manila has sought to play down tensions with its powerful neighbour ahead of the decision.
However, it is resisting pressure to ignore the ruling.
"The reality is that nobody wants a conflict, nobody wants to resolve our conflict in a violent manner, nobody wants war," – says Philippines Foreign Minister Perfecto Yasay.
Strategic importance
Around five trillion US dollars in ship-borne trade passes through the energy-rich, strategic waters of the South China Sea.
China's territorial claims in the region overlap with Vietnam, the Philippines, Malaysia, Brunei and Taiwan.