Turkish-German man jailed in connection with plans for a bomb attack
Comments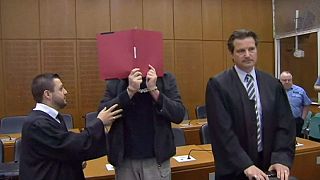 A Turkish-German man thought to have been preparing a militant bomb attack has been sentenced to two-and-a-half years in prison.
German police said that they thwarted an attack by the 36-year-old, known only as Halil D, in April last year.
The suspected target
Officers cancelled a Frankfurt May Day cycle race because the suspect, who is known to have Salafist links, had been seen with his wife along the route.
The race later went ahead as planned.
Suspicions raised
The alarm was raised when the man and his wife bought three litres of the chemical hydrogen peroxide using a false name.
A search of their home turned up a home-made pipe bomb filled with nails and steel pellets as well as numerous weapons, ammunition and chemicals that could be used to make explosives.
Further inquiries revealed the suspect had been in contact with radical Islamists.
The court dropped charges of preparing an act of violence on the grounds that suspicion of an attack could not be sustained.