Turkey: citizenship for Syrian refugees?
Comments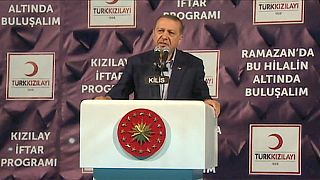 Turkey's president has hinted that Syrian refugees in the country could be offered citizenship.
Recep Tayyip Erdogan has been speaking at a dinner breaking the Ramadan fast in the border city of Kilis, where the number of refugees is higher than the local Turkish population.
"I would say to my brothers coming from Syria that we see you as our brothers and sisters," Erdogan told the crowd.
"If you see us as your brothers too, then you are not far away from your country, you are just away from your houses. Turkey is your country too."
Meanwhile, the hashtag #ÜlkemdeSuriyeliİstemiyorum, which means "I don't want Syrians in my country" has been trending on social media.
Erdogan recently described Syrian President Bashar al-Assad as a "more advanced terrorist" than ISIL – blaming him for the country's war.
Around 2.7 million Syrian refugees are believed to be in Turkey.