Juno meets Jupiter as crucial orbit manoeuvre looms
Comments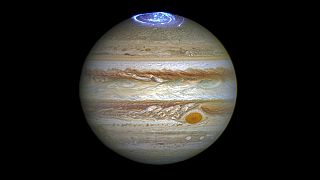 It is fingers crossed time at NASA as the Juno) spacecraft enters a crucial phase of its Jupiter mission.
What to expect when NASA's spacecraft Juno gets to Jupiter tonight https://t.co/vvvOgvvIqjpic.twitter.com/XKTXYPGxiQ

—

NYT

Science (@NYTScience) July 4, 2016
The robotic probe will have a 35-minute window that will allow it to be pulled in orbit around Jupiter.
It has been a long journey for Juno it left Cape Canaveral on August 5, 2011.
Jim Green is Director of Planetary Science at NASA:"We've had a number of probes fly by Jupiter, Galileo actually was our last probe to Jupiter that orbited it for many years. It studied the planet, but only surface-deep, looked at all the moons. And now we have a chance with Juno to go back and study the planet in its own right."
If everything goes to plan Juno will study Jupiter from a polar orbit of 5,000 kilometers.
So cool that NASAJuno</a> has <a href="https://twitter.com/LEGO_Group">LEGO_Group crew! The figures include Galileo, the Roman god, Jupiter & his wife Juno. pic.twitter.com/b9aOtEd1Xg

— Dana Klisanin (@danaklisanin) July 4, 2016
The "suspenseful" manoeuvre takes place at 05.53 CET.