At least 80 killed, scores wounded in twin Baghdad bombings
Comments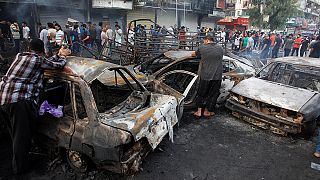 More than 80 people were killed and several hundred wounded when two bombings hit a shopping area and a popular market in Baghdad in the early hours of Sunday (July 3).
The streets were filled with families breaking their fast during the holy month of Ramadan when a car bomb blew up near a restaurant in the Karada shopping district in central Baghdad.
Shortly afterwards, an explosive device went off in a busy market in al-Shaab, a popular Shi'ite district in the north of the Iraqi capital.
In a statement circulated online, the militant group calling itself Islamic State, or ISIL, said it was behind the first bombing. There was no immediate claim of responsibility for the second.
The Baghdad attack comes two days before the end of Ramadan – and just a week after Iraqi government forces declared the nearby city of Fallujah "fully liberated" from ISIL.
At least 82 people killed in bombings in busy shopping area of Baghdad, officials say https://t.co/lvWlxOpDAlpic.twitter.com/pCm9WGPvZ2

— Yahoo News (@YahooNews) July 3, 2016
Iraqi officials say 78 people have been killed, 160 wounded in ISIS car bombing in Baghdad https://t.co/qd1wq0B5BRpic.twitter.com/v0vRCQnszJ

— The Boston Globe (@BostonGlobe) July 3, 2016