Turnbull and Shorten in tight contest as Australia votes in general election
Comments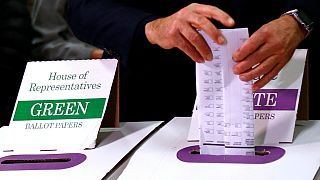 Voters are going to the polls in Australia in a tightly contested general election – after a period of political turmoil that has seen several changes of prime minister.
The early vote was prompted after the leader of the conservative-led coalition dissolved parliament in May.
Under Malcolm Turnbull the government's approval rating soared after he ousted Tony Abbott as party leader next year.
It's thought his chances could be boosted by the global uncertainty caused by the UK's decision to leave the European Union.
But his rival, Labor leader Bill Shorten, has put in a strong challenge, promising to legalise same-sex marriage and focus on education and health.
However Australia's two-party system is showing signs of creaking.
Class divisions have faded, the country is more diverse, its challenges including climate change and immigration, more complex.
Many voters – more than a quarter according to opinion polls – show signs of turning to smaller parties which could hold the balance of power, making the outcome unpredictable.