Holidaymakers stranded by delays and cancellations at Barcelona airport
Comments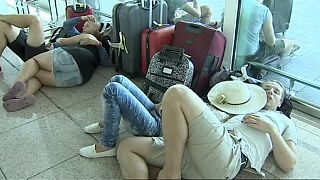 The big summer holiday getaway has literally failed to get off the ground for thousands of people at Barcelona airport.
An increasing number of delays and canceled flights from several days ago are causing travel chaos with low-cost carrier Vueling, the target of passenger fury.
"We've been here since 4am. This is a lack of respect," complained one woman.
"It`s a shame, they leave all these people here without resources, without help. We have been here for five hours. We are not going to fly, we have to return tomorrow."
Some sources inside the airline have reportedly blamed staff shortages for the delays.
Vueling says those affected have the option of changing their tickets or obtaining a refund.