Ulaanbaatar Judo Grand Prix: Mongolian judokas star on home tatami
Comments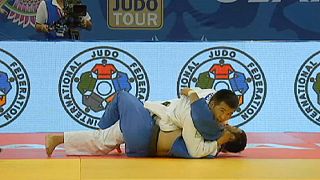 The seventh and final IJF Grand Prix before the Rio Games started on Friday in the Mongolian capital Ulaanbaatar.
Former world silver medallist and top seed Amartuvshin Dashdavaa thrilled his home support by winning the men's -60 kilo category and retaining his 2015 title in Ulaanbaatar.
In the final he saw off the challenge of compatriot Ser-Od Nasanjargal.
It was a great day for Mongolian judokas who won four of the five medals up for grabs on day one.
Asian Championships winner Altansukh Dovdon also struck gold on home tatami when he beat fellow countryman Batsuuri Adiya to win the -66 kilo title.
Dovdon piled the pressure on late and forced his teammate to tap out.
In only her fourth IJF senior event Mongolia's Enkhriilen Lkhagvatogoo sprung the biggest surprise of the day.
The 17-year-old rising star defied her age and experience to beat Japanese veteran Megumi Ishikawa in the women's -57 kilo final.
The home hope defended wave after wave of attack from her more illustrious opponent and then took the win with a throw for waza-ari.