EU extends sanctions against Russia over Ukraine
Comments
By
Euronews
with
Reuters, Council of the European Union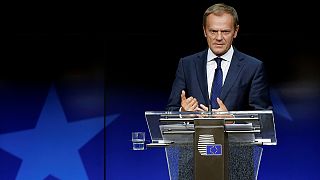 The Council of the EU has extended economic sanctions targeting specific sections of the Russian economy in connection with the ongoing conflict in eastern Ukraine.
They will now be in place until 31 January, 2017.
Has this come as a surprise?
No.
It has been widely expected. EU leaders have called for more progress in bringing peace to eastern Ukraine.
It is estimated more than 9,000 people have died in the conflict since April 2014.
NATO warned last week that the ceasefire in eastern Ukraine is barely holding.
Why and when were the sanctions introduced?
The Council says in response to Russia's actions "destabilising the situation in Ukraine".
They were brought in on 31 July 2014 initially for one year over Moscow's support for separatist rebels in eastern Ukraine. They were "reinforced" in September 2014.
In March 2015, the Council agreed the sanctions would last until the Minsk peace agreements were fully implemented. This was originally meant to happen by 31 December 2015.
This was not the case and they were extended for a further six months until the end of July, 2016.
Which areas do they target?
The financial, energy and defence sectors and the area of what are termed "dual-use goods":
limit access to EU primary and secondary capital markets for a number of Russian companies
An export and import ban on arms
An export ban for dual-use goods with a military link
Limit Russian access to oil production and exploration industry technology

Are there any other measures in place?
Yes.
A number of EU measures have been imposed in response to the crisis in Ukraine.
These include:
A visa ban and asset freeze on 146 people and 37 entities until 15 September 2016
Restrictive measures limited to the annexed territory of Crimea and Sevastopol, in place until 23 June 2017.

How united is the EU behind its policy on sanctions for Russia?
There is some disagreement.
The EU is divided over how to end the stand-off with Moscow.
Some countries, such as Slovakia, say the current sanctions policy is untenable.
What was Moscow's response to the sanctions being imposed?
Moscow imposed a ban on EU farm exports in retaliation and denies any direct backing for the rebels.
Russian officials deny any direct backing for the separatists.
What they are saying
"Having assessed the implementation of the Minsk agreements, the Council decided to renew the sanctions for a further six months, until 31 January 2017," – Council of European governments.