Putin rejects new arms race and builds bridges with Turkey
Comments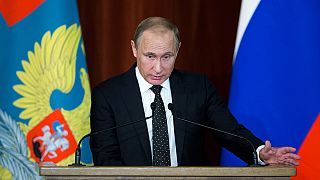 Russian President Vladimir Putin has addressed his country's diplomats in Moscow.
In a wide raging speech Putin took aim at NATO's decision to bolster its military presence in eastern Europe.
In response Russia has announced it is to deploy 2,000 state-of-the-art units into the country's western military district, which includes the Baltic Fleet and the Northern Fleet of the Russian Navy.
Putin Says Russia Won't Enter Arms Race With NATOhttps://t.co/FB8i0Rmixdpic.twitter.com/oAITjJEP2T

— Voice of America (@VOANews) June 30, 2016
Putin played down the move and pointed the finger at the West:"We are not going to succumb to militaristic frenzy and it appears that NATO would like to provoke a costly and futile arms race to ensure we divert our energy from solving our pressing problems of socio-economic development."
Turkey apologized for downed jet: Putin https://t.co/kVi4bPgAflpic.twitter.com/mgnl51GNxS

— Press TV (@PressTV) June 30, 2016
He spoke of thawing relations with Turkey in deep freeze since Ankara downed a Russian jet near the Turkey-Syria border last November: "We have received an apology from Ankara for shooting down our aircraft. In the light of that we mean to take measures to restore bilateral cooperation."
The Russian president commented on the UK's Brexit vote saying market volatility would calm and it was time to see if Britain will uphold its democratic principals.