Austria: Constitutional Court rules fresh presidential run-off vote must be held
Comments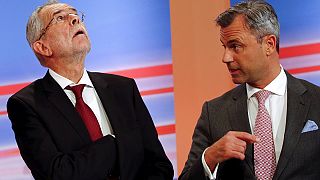 Austria's Constitutional Court has ruled that the presidential run-off election must be held again.
Anti-immigration Freedom Party candidate Norbert Hofer was narrowly defeated by former Greens leader Alexander Van der Bellen in the May 22 vote.
One percentage point separated the pair, with the balance tipped in Van der Bellen's favour by postal ballots.
With the result annulled, Hofer will now have another chance to become the European Union's first far-right head of state.
The court said it was applying its strict standard on the use of election rules. It ruled there were official grounds to invalidate the vote in the interests of the public and democracy.
Witnesses report irregularities in the way the count was carried out, which included the processing of postal votes sooner than they should have been.
A fresh vote is expected to be held in the autumn.