And also... Naked at work; Balloon-popping craze; No Levi's show for Tehran
Comments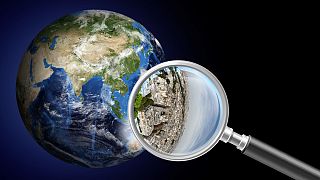 Every Friday, journalists from euronews' various language teams select stories from Europe and beyond that may have not reached international headlines.
Belarus: get naked and work (president's order)
Dozens of people across Belarus have been posting pictures and videos of themselves naked and scantily-clad at work, following to the letter a bizarre instruction from their president, often referred to as Europe's last dictator.
Alexander Lukashenko, 61, was giving a speech about the importance of the tech industry and innovation to the national economy when he urged his citizens to "get undressed and work."
The president really meant people should roll up their sleeves and get to work. But, in Russian, the idiom sounds very similar to "get undressed" – and, taken literally, had a pretty hilarious result.
Naked office selfies went viral on Twitter, using the hashtag #раздеватьсяиработать (#getnakedatwork).
Belarusians Get Naked & Get to Work. (President's Orders.) https://t.co/uxMu5D7Qoa presidential "strip" of the tongue #раздеватьсяиработать

— Global Voices (@globalvoices) July 1, 2016
#раздеватьсяиработатьhttps://t.co/gQjKlzm6yupic.twitter.com/YFbJmK7abu

—

TUT

.BY (@tutby) 2016. június 24.
---
Lithuanian village crowns prettiest goat in annual pageant
Now here's a beauty contest open to hairy, bearded and smelly contestants.
The Lithuanian village of Ramygala held its annual beauty pageant on Sunday, and the top prize went to a 16-month-old female goat called Demyte, or "Little Spot".
The goat is a traditional symbol of the northern village. The pageant also included a marching band, dancers in fancy costumes and a "king" and "queen" presiding over ceremonies.
---
Paris bans old cars from its streets
Starting Friday, July 1, cars registered before 1997, as well as some old motorbikes and lorries, can no longer circulate in Paris – at least not on weekdays, from 8 am to 8 pm.
The aim of this measure is to cut pollution levels and improve air quality in the French capital. The ban will affect some 10,000 vehicles out of the 600,000 that roam around Paris each day, according to city hall.
The ban has sparked controversy and faced opposition from drivers' associations: they see it as penalising poor people who are more likely to use older vehicles to get around.
Starting in October, offenders will risk a fine of 35 euros, rising to 68 euros in 2017. There are some exemptions, including for police and emergency vehicles as well as vintage collector cars.
Classic Cars Exempt from Paris' Pre-1997 Vehicles Ban https://t.co/jZvLkL5×6Mpic.twitter.com/zVwfairXXe

— Carscoops (@Carscoop) June 27, 2016
What does the Paris ban on old cars – which kicks in today – actually mean? https://t.co/f2IvWA6dekpic.twitter.com/J7ElsURb1Q

— The Local France (@TheLocalFrance) July 1, 2016
---
Albanian town erects bust of Hillary Clinton
The Albanian town of Saranda has unveiled a bronze statue of US Democratic presidential candidate Hillary Clinton. The decision to erect the bust on the city's main square was taken to honour Clinton's "dimension as a woman in politics, as a representative of the old Albania-US friendship, for her contribution to the Albanian nation in different historical moments," according to local authorities.
Albania is a strong ally of the United States and has statues of U.S. presidents throughout the country, including of Woodrow Wilson and George W. Bush, Reuters notes.
Albanian sculptor Idriz Balani and participants insisted this was not linked to the U.S. presidential race. "We thought of putting it in Saranda because Saranda is Albania's pearl and such a lady," said Balani.
Saranda is a tourist town close to the ancient Roman archaeological spot of Butrint, near the Greek border.
---
Iran police stop Levi's catwalk show
Iranian police cancelled a catwalk show set to mark the opening of an unofficial Levi's store in a Tehran shopping centre, according to the Tasnim news agency. The event was scrapped at the last minute, just as male models were set to walk on stage on Wednesday night, it reported.
Most US companies are still banned from doing business with Iran despite a landmark deal on Tehran's nuclear programme that lifted some economic sanctions in January.
#Iran cancelled a Levi's opening ceremony in Tehran. Here's why it's so concerned with American consumer brands: https://t.co/AWpDy4BvMr

— Hossein Derakhshan (@h0d3r) June 30, 2016
---
Jack Russell breaks dog balloon-popping record
Yes, there's a Guinness World Record for this.
Twinkie the Jack Russell terrier, from California, has set the world record for the fastest time to pop 100 balloons by a dog – in just 39.08 seconds. A talent that seems to run in her blood: Twinkie's mother, Anastacia, is a former record holder. She must be very proud.
We do wonder what kind of escapades these dogs can get up to at kids' birthday parties.
---
Let them eat mice, jokes Malawi president
Malawi's president has suggested people eat mice to cope with a nationwide food crisis – but the country's information minister said he wasn't serious.
President Peter Mutharika told a rally the government was doing everything it could to tackle food shortages, the Nyasa Times reported. It then quoted him as saying: "But why should Malawians die with hunger when we have different things to eat? You should be eating mice, grasshoppers as well as cassava."
On social media, critics accused the president of being insensitive, and asked if he would himself be eating any mice soon. A spoof version of the ruling Democratic Progressive Party's logo also went viral: it replaces the usual corn cobs with a picture of a mouse and a grasshopper.
DPP symbol spoofed over Mutharika's 'let Malawians make a meal out of mice, grasshoppers': A Democratic Prog… https://t.co/pcuwkt0r3n

— Nyasa Times (@NyasaTimess) June 28, 2016
---
Whale washes up in western French city
Residents of Rennes, Brittany, were in for a surprise on Friday when they discovered a 17-metre long whale washed up on the bank of a river running through the city centre.
It turned out to be a hoax – a big fat July fool. The whale is synthetic and local media reported it was part of an artistic performance by the Belgian collective Captain Boomer, aiming to get people to reflect on their bond with nature.
Sources: