France bans plastic bags, what about the rest of the EU?
Comments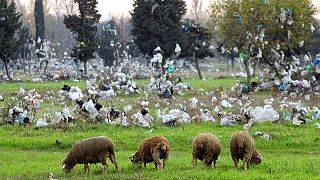 Plastic bags will be banned in France from July 1. This measure will concern supermarkets, pharmacies, bakeries, petrol stations, covered and open-air markets. Bags thicker than 50 microns will still be allowed on the basis they are reusable.
The ban on plastic bags will come into effect in two stages: on July 1, 2016 for "lightweight" shopping bags and January 1, 2017 for packaging bags for fruit and vegetables.
Campaigners call to celebrate the bag free day on July 3.
Plastic bag days are over. Bring out your tote bag! https://t.co/Z0mLThTUtO#banthebag#plasticbagfreedaypic.twitter.com/FKTBpWRtBl

— Surfrider Europe (@surfridereurope) 30 de junio de 2016
According to the French government, 5 billion plastic bags are distributed at tills and 12 billion are used to package fruit and vegetables. Many of them end up in oceans, where they are a disaster for marine life, which can ingest them. They also feed the huge "sea" of plastic formed by large currents.
One of its side effects is to help spreading algae and bacteria.
See Sci-Tech – Dutch company trials method of cleaning the oceans
Davos: a stark warning from Dame Ellen MacArthur
The law encourages the use of "bioplastics" compostable at a domestic level (meaning no need for industrial recycling process).
Europewide, an estimated 8 billion plastic bags end up as litter, including the Oceans. A plastic bag takes 450 years to degrade in nature.
On average, each EU citizen uses almost 200 plastic bags every year. Most of them are used only once.
Shop owners are worried as the alternatives are more expensive than the low cost plastic bags often made in Asia. They hope customers will have a role with more responsible.
Europe to reduce plastic bags consumption drastically in the next decade
France is a pionneer but not the first EU Country to impose the ban.
Italy started to ban single-use plastic bags back in 2012, partly for environmental concerns, partly for economic reasons, in order to favor its strong "biodegradable" plastic bags industry.
Until now there have been wide disparities in regulations. The figures —which are estimates as there's no a unified data collection system— seem to prove that the countries with no regulations at all tend to waste more plastic bags.
There are exceptions – like Finland, where there is no a specific regulation but the consumption of single-use plastic bags is very limited.
So the the EU as a whole has recently adopted a law to try to reduce single-use plastic bag consumption by 80% in the next 15 years.
Different options for the same objective
Under the new regulation the EU members have two routes to reach the goal:
Bring down the number of lightweight plastic bags used by each person to 90 bags per person every year by the end of 2019; and to no more than 40 bags per person by 2025
Put an end to plastic bags being given away for free by the end of 2018
The countries having implemented taxes and levies, like France or Ireland have quickly seen the effects. In Ireland there was a 90% reduction (from 328 bags person/ year to 21 bags person/ year) within five months of its introduction.
The share of plastic bags in litter pollution in Ireland has fallen from 5% in 2001 to 0.25% in 2010, according to the EU Commission.
Collecting data on plastic bag collecting
The EU also wants to put together a common methodology to measure the consumption —and waste— of lightweight plastic bags, as right now the data available is neither precise nor accurate.
The directive also warns against false "biodegradable" materials such as the oxo-degradable plastics. It considers "misleading" the use of the word bio, as this type of plastic can remain in the environment for centuries even if they fragment quickly into small particles.
There's an opportunity then to develop new "biodegradable" packaging and several manufacturers are positioning themselves on this market: BASF, Carbios Sphere Novamont, etc..
But some environmental NGO's warn that the use of vegetables in the industry puts extra pressure on the world food stocks, and are a competition to food production for human consumption.
The Industry of bioplastics have already uncorked the champagne.
More on European Commission, Assesment of imapcts of options to reduce the use of single-use carrier bags