Terror in the terminal at Ataturk Airport
Comments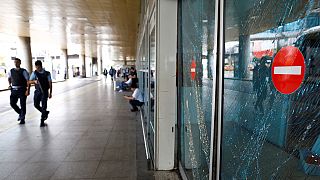 At least 41 people die
239 have been injured
Turkey declares national day of mourning
"The indications are it is

ISIL

– Turkish PM"

What happened?
Three suicide bombers opened fire and then blew themselves up inside Istanbul's main international airport.
It happened just before ten pm local time on Tuesday.
One attacker opened fire in the departures hall.
Police fired shots to try and stop two other attackers before they reached a security checkpoint in Arrivals on the floor below.
All three then blew themselves up in the Arrivals hall
How many people are dead?
The governor of Istanbul says at least 41 people have died.
239 have been injured.
Turkey has declared Wednesday an official day of mourning.
Are all the victims Turkish?
Officials say the majority were Turkish nationals.
13 of the dead are said to be foreign nationals.
Media reports have given their nationalities as follows:
five from Saudi Arabia
two from Iraq
one from China
one from Jordan
one from Tunisia
one from Uzbekistan
one from Iran
one from Ukraine
Who carried out the attack?
At the time of writing, no groups have claimed responsibility for the attack.
Turkey is part of the US-led coalition against ISIL and has to tackle spillover from the conflict in neighbouring Syria.
There is also insurgency by Kurdish militants in Turkey's largely Kurdish southeast.
Speaking to the Reuters news agency on condition of anonymity, two US counter-terrorism officials have said the attack bears all the hallmarks of ISIL.
Turkish Prime Minister Binali Yildirim says the indications are the attack was carried out by ISIL militants.
In tweets
Attentat à Istanbul : une minute de silence à l'Assemblée nationale https://t.co/A4CRBYuSQlpic.twitter.com/CZILhTo31T

— Libération (@libe) June 29, 2016
De Paris à #Istanbul …restons unis! #JeSuisIstambul#Turquie#IstanbulAttack#AtaturkAirport#Terrorismpic.twitter.com/K9BM1Vlxd9

— Noder (@cyrilrtour) 29 Haziran 2016
So sad to hear about the #istanbulattack – very realistic photo unfortunately. pic.twitter.com/Nw96irZJEn

— Ollie Harfield (@OHarfield) June 28, 2016
Dessin réalisé par Vatché Demirdjian en hommage aux victimes de l'attentat d'Istanbul #UnDessinPourIstanbulpic.twitter.com/6o5fdSCRo2

— 20 Minutes (@20Minutes) June 29, 2016