LuxLeaks whistleblowers convicted but not jailed
Comments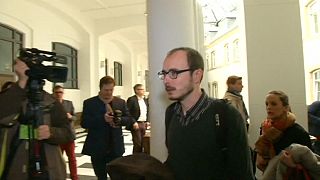 Two French whistleblowers have been convicted in the so-called LuxLeaks tax scandal, but have avoided jail.
Antoine Deltour, 31, was given a 12-month suspended sentence for leaking documents, while his fellow former PricewaterhouseCoopers colleague Raphael Halet, 40, was handed a nine-month suspended term on the same charge.
"Either we are whistleblowers who are acting in the general interest, and we are relaxed, or we're not and we're condemned to the hilt," said Halet.
"Here the tribunal gave a judgement of 'whistleblowing,' plus a condemnation. I find that it's not normal, the judgement over 65 pages explains this. We have to appeal, we have to go until the end."
Deltour added:
"Condemning citizens at the root of the LuxLeaks affair comes back to condemning regulatory advances – that these revelations promoted – which have been largely hailed throughout Europe. It is also a warning to future whistleblowers, to the detriment of information which is crucial to the functioning of democracy."
The judge faced the challenge of upholding Luxembourg's strict secrecy laws while also protecting whistleblowers and the decision to prosecute was heavily criticised by whistleblower groups and journalism charities.
The Luxembourg court also slapped both men with fines.
They have 40 days in which to appeal against the verdict. Both have said they will do so.
French Journalist Edouard Perrin, who reported on the revelations, was cleared of all charges.
Some 30,000 pages of documents were leaked exposing a number of Luxembourg's sweetheart tax deals with large corporations.