Anti Brexit voters march in favour of a referendum re-run
Comments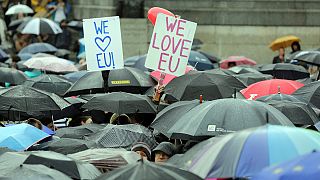 Thousands of Remain voters took to the streets of central London on Tuesday evening to protest over the Brexit poll result. They began in Trafalgar Square marching up to Parliament demanding that last week's referendum decision be challenged or rejected.
It's pain, like a breakup and you can't think of anything else. It's just a tragedy
One protester was desmayed that there had been different results across England, Northern Ireland, Scotland and Wales had voted differently:
"I'm against England being split, split from Britain. And I don't like all this talk about a majority for Brexit. Two countries voted in and two countries voted out."
At anti-#Brexit rally #TrafalgarSquare never more proud to be a #Londoner#LondonStays#Remain#EU#StandTogetherpic.twitter.com/8W1nqqTRAQ

— Gemma Knight (@gemknight88) June 28, 2016
"We could end up sort of in an isolationist Britain where we are not connected with other countries and I think the world is moving to become so connected that I feel like trying to sort of put ourselves into a box is going to have a detrimental effects for my future."
"It's pain, like a breakup and you can't think of anything else. It's just a tragedy that this has come to this."
Most of those taking part said it was because they felt their country had not spoken for them.
But Prime Minister David Cameron has already said the referendum can not be re-run or be legally challenged.
However for many remain voters its not the end of the road and more rallies are planned for next month.
There were also rallies held in Cardiff, York and other major cities.