Brexit: bitter exchanges inside EU parliament
Comments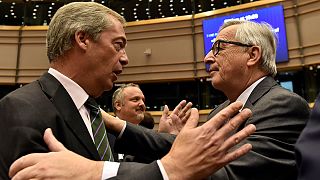 There have been bitter and emotional exchanges inside the European Parliament in Brussels during a special session on the UK's vote to leave the European Union.
Much of the anger was directed at UKIP leader Nigel Farage.
Why are you here? EU Commission President Jean-Claude Juncker demanded the UKIP leader and his MEPs, before urging the UK to clarify its position.
"I would call on the UK government and I will be speaking to the Prime Minister (David Cameron) later, who is still a friend, because despite the vote, the British remain our friends. In any case I will ask the Prime Minister to clarify the situation as soon as possible. We cannot be embroiled in lasting uncertainty," Juncker said.
Jeered and heckled by fellow members inside the chamber, Nigel Farage told MEPs to be 'grown up' about Britain's decision to quit the bloc, while accusing many of them of hardly doing or creating a proper job in their lives.
"Why don't we just be pragmatic, sensible, grown-up, realistic, and let's cut between us a sensible tariff-free deal, and thereafter recognize that the UK will be your friend, that we will trade with you, we will cooperate with you, we will be your best friends in the world," Farage said.
Farage also insisted the European Union as a political project is in denial and warned that UK would not be the last country to leave the EU.