Why NATO is missing the point with Russia
Comments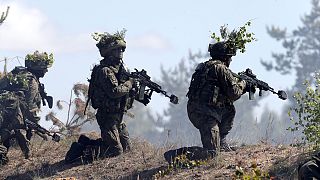 Nato last week decided to classify cyber attacks as a potential act of war
The decision, as well as being poorly thought out, is just another example of the alliance's US-driven obsession with Russia, according to one of Italy's most senior military figures.
General Leonardo Tricarico, a former Nato commander and Chief of Staff of the Italian air force, told Euronews that instead of focusing on the traditional enemy of Russia, NATO should look to the more immediate threats to its members.
Who is Leonardo Tricarico?
Lieutenant General, Former Chief of Staff of the Italian Air Force
Military advisor to the Prime Minister (1999-2004)
Commander of

NATO

's Fifth Tactical Air Force
Deputy Commander of the Multinational Forces during the Balkan conflict (1999)
Currently President of

ICSA

Foundation (Intelligence Culture and Strategic Analysis)
(Source: ICSA)
Migration, terrorism and cybersecurity
NATO should reformulate its policy around the triple challenges of migration, terrorism and cyber security, General Tricarico has told Euronews.
Defence strategy should be predicated on dealing with these three problems across the board. The focus on security along the alliance's eastern front is misguided, he suggests.
"The world will change from the South"
General Tricarico says there is a fundamental imbalance in NATO's focus on the perceived threat along its eastern front.
He deplores what he describes as a "recycling of the old logic", which views dealing with an East-West confrontation as NATO's main mission.
"The world will change from the South", he insists.
"If you listen to Stoltenberg, you hear Obama"
NATO Secretary General Jens Stoltenberg is on record as saying NATO is putting in place "the biggest reinforcement of our collective defence since the Cold War."
For General Tricarico, Stoltenberg is a conduit for US influence in NATO. "There is a clear acceleration in this direction," he adds, "to the extent that Washington's influence in NATO has reached an unacceptable extent."
Cyber warfare – "The cat is among the pigeons"
NATO's recent declaration that, henceforth, cyber attacks are to be classed as an act of war using Article 5 of the organisation's founding treaty made headlines around the world.
General Tricarico has condemned the decision, taken at the most-recent NATO defence ministers meeting in Brussels, as badly thought out.
He says the argument must be considered in depth, a strategy developed and the rules of engagement defined. These should be coherent with the principles of the alliance and member nations should all be consulted.
Instead, he says, they have jumped to the conclusion that a cyber attack on a member country could justify an armed response against the culprit.
There is no solid basis to establish the responsibility of a country or organisation who might be behind an attack, Tricarico says. Given the clandestine nature of the internet, there is a chance the perpetrators of an attack may never be traced.
"We are saying today that 'we can respond to attacks' without saying whether we can identify the attacker."
The Russian war plane recently shot down by Turkey along its border is a good example to consider, he adds. Even with all the tools at our disposal – radar, geolocalisation, etc – a definitive account of what happened has still not been produced.
If this were a cyber attack, Tricarico says, there could be no escalation of the situation without consultation with member nations. A technical task force would be needed to define the nature of the attack and the correct response. Then the rules and operational context could be established, he says.
Logically speaking, Article 4 of NATO's founding treaty should be invoked before Article 5. This is the correct route to follow when a NATO member feels its security is under threat. "I don't think this consultation on the danger from cyber space has ever taken place."
Cyber security should be studied in more depth
General Tricarico is calling for a consultation followed by the development of rules and subsequent responses.
Cybersecurity and its position in the NATO framework have to be studied in more depth.
Provocation for Putin?
Classifying a cyber attack as an act of war is a challenge to Russian President Vladimir Putin, Tricarico says.
The decision has been taken, he says, because all stakeholders, including Russia, are preparing to face and even develop offensive capacity in the cyber sector.
NATO

's biggest failure
NATO is not preparing to face the real dangers threatening its member countries, according to General Tricarico.
NATO is not tackling terrorism, he says. "We should consider a new doctrine of force against terrorism. NATO is not doing this."
The real strength of NATO has been lost, he adds. It is no longer an alliance capable of tackling the dangers faced by its member states.
"NATO is not thinking about a new philosophy of maximising its capabilities. Instead it is exhuming old scenarios of symmetrical confrontation."
NATO

is turning away from its biggest problem
"Terrorism is considered a residual threat, almost non-existant", Tricarico maintains.
"Look at what happened with Operation Trident Juncture last Autumn. Huge forces were mobilised to simulate a symmetrical confrontation."
Plans for the operation did not include the threat of terrorism.
"How is it possible to undertake an operation with 37, 000 personnel and not include the threat from terrorism?", Tricarico asks.
"This is the best example of how NATO is turning away from its real problems."