'No Article 50 for now': Britain in no rush towards Brexit door
Comments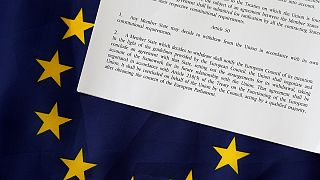 The grandiose surroundings of the 15th century Jeronimos Monastery in Portugal provided the setting as the next step of the European project was set in motion back in December 2007. But as leaders of the EU's member states added their signatures to the new document – including Britain's then Prime Minister Gordon Brown – there was no disguising that the background was one of failure.
Only the UK can trigger Article 50. And in my judgement, we should only do that when there is a clear view about what new arrangements we are seeking with our European neighbours
The Lisbon Treaty was the European Union's response to the rejection by French and Dutch voters of its ill-fated new Constitution.
Designed to streamline and modernise the EU, the treaty's critics said it made the organisation more unwieldy and undemocratic.
It was almost a footnote at the time – but significantly, for the first time it also set out a procedure to be followed should a country wish to leave the union.
Article 50 of the Lisbon Treaty has not been invoked, so far. Before the referendum David Cameron had said it would be triggered immediately if Britain voted to leave.
But On Friday on the dawn of defeat, he passed the buck.
"A negotiation with the European Union will need to begin under a new prime minister and I think it's right that this new prime minister takes the decision about when to trigger Article 50 and start the formal and legal process of leaving the EU," the British prime minister said outside Number 10 Downing Street as he announced he was to step down.
But with the ruling Conservatives in no rush to choose a new leader, neither are leading "Leave" campaigners moving to set the ball rolling immediately towards the EU exit door.
"Vote Leave" was a campaign group, not a government-in-waiting. Even its most recognisable face is anxious not to lock Britain in to Article 50's strict maximum two-year negotiating process – yet.
"In voting to leave the EU, it is vital to stress that there is now no need for haste," Cameron's Conservative rival Boris Johnson said on Friday. "And, as the prime minister has rightly said, there is no need to invoke Article 50 (of the Lisbon Treaty)."
After the bitter differences exposed during the referendum campaign, pro and anti-EU figures in London now agree on the timing – as Britain's Chancellor of the Exchequer (finance minister) made clear on Monday.
"Only the UK can trigger Article 50. And in my judgement, we should only do that when there is a clear view about what new arrangements we are seeking with our European neighbours," George Osborne said.
'Key decisions will have to wait', Cameron says https://t.co/CJbXFdLU2P

— EUobserver (@euobs) June 27, 2016
At first Brussels didn't share the UK's reluctance to start the clock. Keen to avoid a prolonged period of uncertainty further damaging Europe's economy, on Friday the European Commission president called on London to act.
"We now expect the United Kingdom government will give effect to this decision of the British people as soon as possible, however painful that process may be," Jean-Claude Juncker told a news briefing.
The European Union's six founding members duly met on Saturday in Berlin. But their hands are tied – only Britain can invoke Article 50, all they can do is put pressure.
"I hope we will not have a game of cat and mouse, that is not our way nor is it the British one. We need clarity, the people have spoken and we have to implement this decision,"said Luxembourg's foreign minister,Jean Asselborn.
"People have to see the results of Europe I think that's key, but we need to turn the page we don't want a vacuum and it's important now that these negotiations with the United Kingdom start in good faith but as soon as possible," added Dutch Foreign Minister Bert Koenders.
So the ball remains in Britain's court to decide what kind of post-EU arrangements it wants to seek.
But with other Eurosceptic leaders such as Geert Wilders and Marine Le Pen calling for referendums in their own countries, the EU's remaining 27 member states want to prevent the populists from filling a dangerous post-Brexit vacuum.