Scotland's Nicola Sturgeon vows to do whatever it takes to remain in the EU
Comments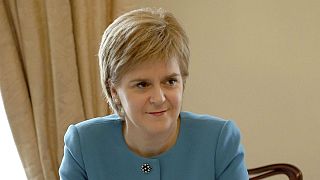 Scotland's First Minister Nicola Sturgeon says she will do whatever it takes to remain in the European Union.
Speaking following Thursday's shock rejection of EU membership by voters in the UK, Sturgeon said a new Scottish referendum on independence was "highly likely".
"It might not all happen immediately but this is going to be the most damaging experience for the UK since the end of the second World War and you know, I don't want Scotland to be subject to that damage. (…) Everybody knows I support independence, I'm not starting from a premise that says it's all about independence, it's all about protecting Scotland. But if to protect Scotland we need to consider independence then we absolutely must be in a position to do that."
Scotland voted to stay in the EU by 62 to 38 percent in the referendum, putting it at odds with the rest of the United Kingdom.
Sturgeon claims another avenue to consider is trying to block the legal process behind Britain's exit by asking the Scottish parliament to refuse to give their "legislative consent" to any withdrawal, in effect vetoing it.
Under the UK's complex arrangements to devolve some powers to Scotland, Wales and Northern Ireland, legislation generated in London to give effect to the vote to leave the EU may have to gain consent from the three devolved parliaments.
However, a spokesman for Sturgeon later said that there was legal debate over whether a lack of Scottish consent would be enough to hold up the withdrawal, and that the Scottish government expected their London counterparts to say it was not needed.
The possibility of a new Scottish independence referendum has been welcomed in several quarters:
Tomorrow's Sunday Post front page. Post-EU referendum polling results and analysis – don't miss it #scotpaperspic.twitter.com/35lFQjQVBC

— Sunday Post (@Sunday_Post) June 25, 2016
Scottish Labour's ex chair JamieGlackin1</a> says he "supports Nicola Sturgeon 100%" in trying to keep Scotland in EU <a href="https://t.co/JV0iq5wBg4">https://t.co/JV0iq5wBg4</a></p>&mdash; STV News (STVNews) June 26, 2016