Iceland's new President Gudni Johannesson off to France for the football
Comments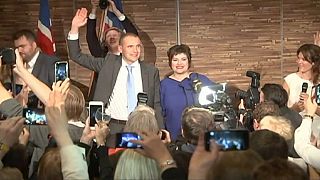 Historian Gudni Johannesson has claimed victory in Iceland's presidential election.
Gudni Johannesson claims victory in Iceland's presidential election https://t.co/uCSTJqQMbepic.twitter.com/uCFnIMCMCR

— Global Issues Web (@globalissuesweb) June 26, 2016
The newcomer to politics defeated businesswoman Halla Tomasdottir.
His election comes amid a general disenchantment with the political elite.
Johannesson said he would be a unifying president.
The ballot went ahead despite ten percent of the Icelandic population being in France for the euros.
Iceland celebrating with their fans
BRILLIANTPICTURE! pic.twitter.com/MEd15pgYJn

— Kop-Ice (@kopice86) June 22, 2016
The new president said his first job would be to fly to France to support his country against England on Monday.