Russia end European Fencing Championships on golden not
Comments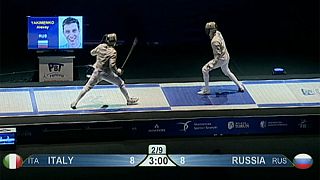 Russia capped off a fine showing at the European Fencing Championships in Torun, Poland by winning the men's team sabre title on the final day of action.
Nikolay Kovalev, Alexey Yakimenko, Kamil Ibragimov and Dmitriy Danilenko were too good on the day and left Italy with their second consecutive European silver medal.
Following a tightly-fought encounter Russia won through 45-42 to continue their nation's dominance of this edition, where they have won a table-topping six gold medals.
Romania won bronze.
Estonia struck gold for the first and only time in Torun on the final day when their Women's team won the Epee crown.
They upgraded their silver from last year to the shiniest of medals this time around after they beat France in the showpiece match.
Irina Embrich, Julia Beljajeva, Kristina Kuusk and Erika Kirpu won through 33-28.
Romania enjoyed their second bronze of the day when they easily brushed aside neighbours Hungary 27-19.