Brexit fallout as poll exposes deep divisions between old and young
Comments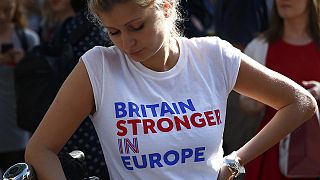 And so the fallout from Britain's historic decision to leave the EU begins.
One of the key areas of antagonism is an age divide, revealed by a YouGov survey on people's voting intentions.
It showed a clear trend: the older you are, the more likely you were planning to vote for a Brexit.


% remain
% leave
18-24
73
27
25-49
54
46
50-64
42
58
65+
36
64
Source: YouGov poll on Brexit voting intentions. June 17-19
Nearly three-quarters of voters aged 18-24 said they were going to back staying in the EU, while nearly two-thirds of over 65s claimed they were going to choose to leave.
It's lead to accusations that the older generation have voted for a future the young do not want.
Or, put another way, the less time you are likely to have to live with the consequences, the more likely you are to vote for Brexit.
Boris Johnson, a leading campaigner to quit the EU sought to ease young people's fears.
He said: "I want to speak to the millions of people who did not vote for this outcome. Especially young people who may feel that this decision in some way involves pulling up a drawbridge or any kind of isolationism.
"Because I think the very opposite is true. We cannot turn our backs on Europe, we are part of Europe.
"Our children and our grandchildren will continue to have a wonderful future as Europeans travelling to the continent, understanding the languages and cultures that make up our common European civilisation, continuing to interact with the people of other countries in a way that is open and friendly and outward looking.
"And it is the essence of our case that young people in this country can look forward to a more secure and more prosperous future if we take back the democratic control that is the foundation of our economic prosperity."
&I feel it's also very unfair that people at the age of 16 are unable to vote, even though it's our future to be played with #EURefResults

— sherifff (@lovingjaisus) June 24, 2016
The #Brexit reminds me of the situation here in Egypt: the old deciding the future of the young.

— The Big Pharaoh (@TheBigPharaoh) June 24, 2016
There's an age limit when you're too young to vote, maybe there should be an age limit when you're too old to vote. #Brexit

— Christopher Moriarty (@darthshatner) June 24, 2016
"The rhetoric of the Leave campaign had isolationism at its heart"- megandunn116</a> responds to <a href="https://twitter.com/BorisJohnson">BorisJohnson's speech https://t.co/zomv9AFXNK

—

NUS

UK (@nusuk) June 24, 2016
Staggering split in age group voting.. Perhaps the strangest element to digest. Grandparents and Grandchildren Divided #Brexit

— Will Greenwood (@WillGreenwood) June 24, 2016