At least 5,000 migrants rescued from Mediterranean in one day - Coast Guard
Comments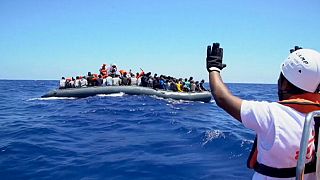 At least 5,000 migrants were rescued in 43 operations across the Mediterranean Sea on Thursday (June 23), the Italian Coast Guard reports.
The majority were found in rubber dinghies. According to authorities, a body was found aboard one of the vessels.
Aid organisation Médécins sans frontières reported that the people aboard some of the boats were in a "state of panic."
Liberian national Musa Fafani was one of a group of people rescued near the Libyan coast.
"I'm very happy because life, our situation in Africa is very difficult. For me, I was in Liberia because of Ebola crisis I lost all my family," he said.
According to the UN High Commissioner for Refugees, more than 56,200 people had reached Italy by sea between January and June 19 this year.
Over 2,800 migrants lost their lives in the Mediterranean in the first six months of 2016, the UNHCR reports.