Referendum campaign funded by well-heeled donors
Comments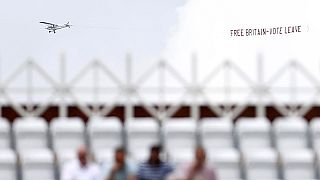 As the British EU referendum reaches the home straight just how much money is required to keep the campaign wheels turning.
At the last count the Electoral Commission said the 'Leave' camp had raised some £12.1m, while the 'Remain' gang has gathered £9m.
The figures are based on amounts donated of over £7.500, which have to be declared.
The biggest individual donation was £3.2m from businessman Peter Hargreaves to 'Vote Leave.'
Britain will thrive outside of the EU, says the UK's richest entrepreneur Peter Hargreaves https://t.co/3RztEpz2USpic.twitter.com/jZBh90sTXJ

— John M Knox (@johnmknox) June 17, 2016
Labour peer David Sainsbury, of Sainsburys supermarket, handed over £1.6m and £750,000 to Britain Stronger in Europe.
Chancellor Lord Sainsbury kicking off events at new #MaxwellCentrepic.twitter.com/CqxQxeMABs

— Athene Donald (@AtheneDonald) April 7, 2016
The campaign to stay In also took £250,000 from both Morgan Stanley and CitiGroup.