Cardinal Pietro Parolin on immigration and the conflict in Ukraine
Comments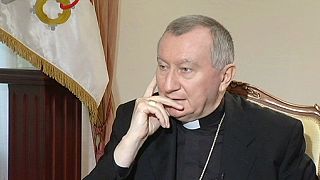 The Vatican wants to play a decisive diplomatic and political role in the Ukrainian conflict.
Italian Cardinal Pietro Parolin is the Secretary of State of the Holy See, the ecclesiastical jurisdiction of the Catholic Church in Rome; in essence, the prime minister of the Vatican State. He came to Ukraine to distribute aid to the populations affected by the conflict. Here he met Ukraine president Petro Poroshenko in an effort to push forward the full implementation of the Minsk Protocol.
Euronews' Sergio Cantone met the Cardinal at the Apostolic Nunciature (the embassy of the Vatican) in Kyiv.
euronews: Your Eminence, welcome to euronews. You came to Ukraine in order to distribute aid and support to the population who is suffering because of the conflict. What is your position vis-à-vis this war and do you foresee a political solution?
Pietro Parolin: The Holy See rests upon the principles and values that must be the base of the relationship among countries and nations within the international community, the principles of the law, the values of international law. In this case, it concerns the respect of the international legality on the territory and the borders of Ukraine.
euronews: Does that also concern Crimea?
Pietro Parolin: That concerns everything. That concerns everything, yes.
euronews: The Minsk Agreement should be the key, because it is the basis of this, this difficult cease-fire, which has not been implemented in full. Should Ukraine take some steps too?
Pietro Parolin: Certainly, even the Holy Father, Francis, has repeatedly referred to the Minsk Agreement as the platform where to start and go ahead.
euronews: Do you think that it is more difficult to reach an honest agreement between the two sides because these countries are troubled by corruption?
Pietro Parolin: When I met the internally displaced persons I thought how it is important that those in charge of the destiny of humanity and its political leadership might look at these people in their eyes and also see them cry – as we saw – and see that people suffer, and be moved by this suffering. Corruption is like a wall that doesn't allow one to see beyond his own interests, to see that other people exist.
euronews: The position of the Catholic Church is clear: open the doors to all those people who are in need, both war-fleeing refugees and economic immigrants…
Pietro Parolin: We are aware that Europe is taking on an unprecedented challenge that has been jeopardising its own nature as well as its own cohesion. The issue of the integration is a really scary one. The phenomena of immigration is happening so fast that there's not even time to grasp or assimilate it. That's the reason why we need a great cultural effort that could help us to live together, in order to avoid that those differences that we perceive don't become sources of conflict and contrasts. Rather, we need to turn it into an opportunity of mutual improvement.